BOOK EARLY to secure your first choice of villa with the following savings:
*WINTER villas program
*SAVE up to 10% by booking early
*Get free days in pre and after season terms


Just look for the properties marked with a 'Special offer' sign.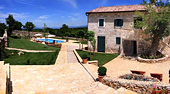 Whether you're looking for last minute villas, great deals on family villas or luxury villas, you'll find our very latest special offer on a range of fabulous villas with pools, all over Croatia. Simply make a selection on the type of villa deal you're looking for to see more.
31.03.2015.
Season 2015. is about to begin.
news »